Proyecto de causa
DonorsChoose Distance Learning Projects - COVID-19 (Microsoft)
de
DONORSCHOOSE.ORG

When students are unable to go to school, the resources available in their home will shape their education. That's why DonorsChoose created Distance Learning Projects. Distance Learning Projects allow a teacher to request resources to help facilitate continued learning while schools are closed.
Here's how it works. Teachers request resources specifically for student or teacher use to help facilitate learning outside of the classroom. These projects are clearly marked as "Distance Learning Projects" on DonorsChoose. When a project reaches its funding goal, the teacher selects the address to send resources to. Whether that's their home, a student's home, or a central district office.
We hope that you'll join us in helping to support teachers and students in need of a boost during school closures.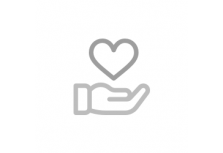 Cómo funcionan las donaciones
Haga clic en cualquier botón de "Donar ahora" y, luego, decida su importe de donación. Será dirigido al procesador de pagos que elija. Una vez que su donación se haya procesado, se enviará a la entidad benéfica de su elección.
¿Necesita ayuda?