Coronavirus has closed schools across the country. Right now, teachers need to get supplies in the hands of students at home to keep them learning, especially in our country's highest-need communities.
Teachers need your help now to get the books, food, basic supplies, and arts and crafts materials they need to keep kids learning at home.
Here's how Keep Kids Learning works:
1. Googlers can make a donation of any amount to Keep Kids Learning.
2. All donations go to teachers at schools serving low-income communities where most students are eligible for free and reduced lunch.
3. Teachers select the materials they need and distribute them to students at home.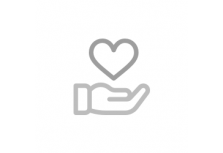 Fonctionnement des dons
Cliquez sur n'importe quel bouton « Donner maintenant », puis décidez du montant de votre don. Vous serez alors dirigé vers le traitement de paiement de votre choix. Une fois votre don traité, il sera envoyé à l'œuvre de bienfaisance de votre choix.
Besoin d'aide?