Occasion de don
Give the gift of safe water
Access to water can transform someone's life
À propos de cette Occasion de don
4 872,33 $US
Don de 5 000,00 $US
4 872,33 $US Dons
0,00 $US Montant du jumelage
Millions of people around the world could get access to safe water in their homes with the help of small, affordable loans.
That's where Water.org comes in. Their mission is to bring safe water and sanitation to the world through access to small, affordable loans. There is both a need and demand for these loans, because when people have access to safe water, they get time back to go to school, earn an income and take care of their family. It changes their world.
For more than 25 years, with your help, Water.org has been providing families with hope, health and the opportunity to break the cycle of poverty.Please join Microsoft News in supporting the great work of Water.org. About MSN + Benevity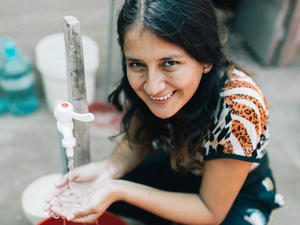 Fonctionnement des dons
Cliquez sur n'importe quel bouton « Donner maintenant », puis décidez du montant de votre don. Vous serez alors dirigé vers le traitement de paiement de votre choix. Une fois votre don traité, il sera envoyé à l'œuvre de bienfaisance de votre choix.
Besoin d'aide?