Amidst the COVID-19 outbreak, Team Rubicon has not only pivoted to be able to continue to deliver disaster response and rebuild services in core mission areas, but has also expanded their scope of missions to meet community needs brought about by COVID-19. This has required the development of extensive protocols that allow its volunteers, also known as Greyshirts, to swiftly and safely continue to deliver on its core mission of disaster response which has recently included operations for Hurricanes Laura, Isaias, Hanna and the recent derecho in the Midwest. Team Rubicon has also adapted its capabilities to respond to the pandemic by assisting in activities such as food delivery to at-risk populations, coordination and logistics support for those in temporary quarantine, and opportunities for volunteers to help their neighbors through individual acts of service. Additionally, Team Rubicon has helped local, state, and federal partners with a direct medical response, including running mobile testing sites, decompressing hospitals, and providing on-site medical assistance.
ACTIVE COVID-19 OPERATIONS (as of December 9, 2021):
VACCINATION SUPPORT:
Team Rubicon, along with our partners, are supporting first responders and the medical community by assisting in COVID-19 vaccination delivery and distribution. Our goal is to provide vaccine distribution support so the healthcare providers can continue to provide primary care services or vaccinate.
Over the course of 2020, the enablers that Team Rubicon built to support feeding and testing operations directly apply to vaccination distribution support operations. Team Rubicon is augmenting vaccination efforts with medical support, logistics and wrap-around support services to relieve pressure on the nation's overwhelmed health system.
TETON COUNTY, WY
Team Rubicon is supporting vaccine distribution in Teton County from Sept. 21-Dec 11.
NEIGHBORS HELPING NEIGHBORS:
The entire nation has been impacted by the magnitude of COVID-19, and as our daily lives have been interrupted, it's important to hit the pause button and do what we can to help our neighbors. As such, we developed a #NeighborsHelpingNeighbors campaign to encourage Greyshirts to perform individual acts of service in their communities.
If you're not an at-risk individual, you can also sign up as a volunteer to deploy during a local operation. Volunteers can sign-up to participate and learn more about Team Rubicon here: https://teamrubiconusa.org/joinus-covid-19-1/
*While enabling military veterans a chance to continue their service, your donations go directly to our Unrestricted Ready Reserve Fund which increases the efficiency and capacity of TR's disaster response and humanitarian efforts.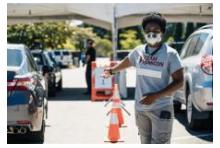 Come funzionano le donazioni
Fai clic su un pulsante "Dona ora" e poi decidi l'importo della donazione. Passerai quindi al sistema di elaborazione dei pagamenti di tua scelta. Dopo l'elaborazione, la tua donazione sarà inviata all'organizzazione benefica di tua scelta.
Serve aiuto?