All of us need to take action now to CRUSH COVID.
The CDC Foundation is working closely with public health authorities nationwide to respond to the pandemic. Thanks to our donors, we have met critical needs, such as:
o distributing 8 million pieces of personal protective equipment (PPE) for frontline workers;
o providing lab and medical equipment;
o supporting testing and vaccination efforts;
o hiring more than 2,500 surge staff for health departments;
o sponsoring national communication campaigns;
o aiding long-term care facilities and community-based organizations serving under-resourced populations; and
o supporting much-needed research.
The needs are greater than ever, and we need your help to CRUSH COVID. Your support is critical to provide essential resources and flexibility where government support is not available or available rapidly enough. Importantly, donations are leveraged against investments by the federal government and coordinated with local leaders and nonprofits on the ground.
Your gift NOW will empower the CDC Foundation to make a real difference NOW in three core areas:
CRUSH COVID BY INVESTING IN HEALTH EQUITY
The virus has taken a disproportionate toll on racial and ethnic minority groups. We are working with partners to better understand and address health inequity issues brought forward by COVID-19, as well as provide on-the-ground support to meet crucial needs such as housing, clean water, handwashing stations, food and medical necessities.
CRUSH COVID BY INVESTING IN THE FRONTLINES
Public health departments, healthcare and long-term care facilities are working around the clock to fight the pandemic. Many U.S. healthcare workers have died from COVID-19. Frontline responders need PPE, surge staff, laboratory support, prevention control and communications support.
Health departments are also working with schools and businesses, and they also face the daunting task of supporting facilitation of the COVID-19 vaccine. Philanthropic support is desperately needed to bolster these efforts through educational materials, supplies and additional staff.
CRUSH COVID BY INVESTING IN HEALTH PROTECTION CAMPAIGNS
If all of us model the three Ws—wearing a mask, watching our distance (social distancing) and washing our hands—we can help control the spread of COVID-19 and protect millions of lives. The CDC Foundation is working with partners on campaigns to promote the scientific advantages of everyone wearing a cloth face mask when in public, maintaining social distancing and handwashing. Your partnership today will directly benefit all of us—you, your family, friends, communities and the world—by fueling national and global awareness.
Thank you for CRUSHING COVID. ALL OF US together will help usher in a better, healthier, more united world! Together our impact is greater.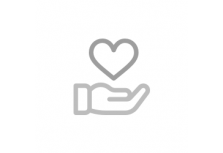 寄付の仕組み
「今すぐ寄付」ボタンをクリックして、次に寄付額を決定してください。その後、選択した支払担当業者に転送されます。寄付手続きが終了すると、選択したチャリティ活動に送信されます。
ヘルプが必要ですか?