Direct Relief has offered support to healthcare providers across the island, in coordination with the Puerto Rican Department of Health, the Puerto Rican Hospital Association, the Puerto Rican Medical Reserve Corps, and the Puerto Rican Primary Care Association. Direct Relief is also coordinating relief efforts with the Mayors of Guanica and Guayanilla, which were the hardest hit areas.
With support from local organizations like VOCES, University of Puerto Rico, and Federally Qualified Health Centers, Direct Relief will be organizing teams of doctors, nurses, and mental health counselors to offer medical and mental health services to residents and those staying in the shelters of these hardest hit areas, and who are still suffering from the impacts of Hurricane Maria.
The organization is also sending overnight to Puerto Rico an Emergency Health Kit with over 200 essential medical items, and has made available its cache of medical inventory to hospitals and health centers treating patients.
Materials include: respiratory medications, blood pressure medications, diabetes oral medication and insulins, wound care, antibiotics, IV fluids, and neurological and psychiatric medications. In the aftermath of Hurricane Maria, there was a lack of medicine available, especially for those with chronic conditions like diabetes, hypertension and heart disease.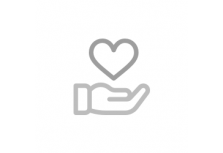 Como funcionam as doações
Clique em qualquer botão "Doe agora" e, em seguida, decida o valor da sua doação. Você será então direcionado ao processador de pagamento de sua escolha. Depois que sua doação for processada, será enviada para a instituição beneficente de sua escolha.
Precisa de ajuda?