Nurses deliver the vast majority of patient care -- before, during, and after the pandemic. But for more than two years now, our nation's nurses have confronted the greatest challenge of their careers as the COVID-19 pandemic overloads our health care system and ravages our communities. Nurses serve on the front lines, providing critical, highly skilled care while simultaneously being the emotional core in hospitals across the country.
To provide support for nurses on the frontlines of the pandemic, American Nurses Foundation launched the Coronavirus Response Fund for Nurses. From the start of our efforts, the Foundation knew that pandemic response must continue beyond the immediate period of first COVID diagnoses. The Fund supports nurses through three key stages:
• Relief - Providing immediate assistance for nurses impacted by the pandemic.
• Recovery - Listening to nurses and increasing their strengths and resilience.
• Rebuilding - Evolving the practice of nursing to transform healthcare.
The Fund has four focus areas, based on tens of thousands nurses' responses to the ANA COVID-19 survey, townhalls, and outreach from nurses to state nursing associations.
• Ensuring nurses everywhere have access to the latest science-based information to protect themselves, prevent infection, and care for those in need
• Providing direct financial assistance to nurses
• Supporting the mental health of nurses – today and in the future
• Driving national advocacy focused on nurses and patients
The Latest Science-based Information
RNs and other healthcare providers need the best, latest, unbiased information to protect themselves and their patients. Unfortunately, in the current, often-chaotic environment surrounding the pandemic, there is conflicting information from employers, federal agencies and the media. Accurate, consistent, science and data-based information is a life-critical priority for nurses, and the Fund invests in materials and tools to ensure all nurses have access to this information as it becomes available.
The American Nurses Foundation Coronavirus Response Fund for Nurses funds key activities to hear from nurses, and based on their requests, questions, and real-time descriptions of what they need, to get that crucial information to them as quickly as possible.
• Our Pulse on the Nation's Nurses survey series has gathered input from more than 100,000 nurses.
• ANA's COVID-19 Resource Center offer a one-stop source of what nurses need to know about the pandemic.
• A Free COVID-19 Webinar Series developed by ANA specifically for topics critical to nurses.
Direct Financial Assistance
The Coronavirus Response Fund for Nurses provides direct financial assistance to nurses through Nurses House, Inc., a nurse-managed, non-profit organization dedicated to helping registered nurses in need.
Nurses House has established a special COVID-19 fund, to offer one-time financial hardship grants to nurses who are COVID+, caring for a COVID+ family member, or on mandatory quarantine. Nurses do not have to be a current member of ANA to apply, and LPNs are eligible as well.
Mental Health
Even before the COVID-19 pandemic, nurses experienced extraordinary levels of stress in their day-to-day work. Early research of healthcare workers in Wuhan, China found that nurses experienced higher likelihood of depression, anxiety, insomnia, and distress than other health care workers in hospitals. We can expect the same impact on nurses working with COVID-19 patients in the U.S. It's all too apparent nurses need as much mental health and wellbeing support as possible.
In response, the Foundation launched The Well-Being Initiative, in partnership with American Nurses Association, American Association of Critical Care Nurses, American Psychiatric Nurses Association, and the Emergency Nurses Association. The Initiative offers responsive and preventative resources to support nurses' mental health and resilience, including virtual support systems, a curated digital toolkit, and expressions of gratitude.
Our virtual support system includes opportunities to connect in peer-to-peer conversations, in one-on-one warmline calls, and through narrative expressive writing with feedback provided from trained responders. The digital toolkit includes the best and most relevant video. audio and visual content and the impact it has on nurses' well-being. The Fund will also focus on identifying and providing all nurses with meaningful expressions of gratitude - from peers, patients, and the general public.
Advocating for Nurses and Those They Serve
The Foundation supports American Nurses Association (ANA)'s legislative, regulatory and education efforts to keep nurses' needs at the center of the conversation.
Efforts thus far include ensuring nurses' needs are understood and factored into government decision making, by engaging with the Administration, government agencies like HHS, FEMA, DOL, and communicating with Congress. The Foundation and ANA's priorities focus on crucial issues such as:
• The needs for testing and increasing production of PPE
• Funding for health care systems, staffing & equipment, and
• Support for nursing education funding
The advocacy driven by the Fund also campaigns to strengthen public health efforts in preventing the spread of coronavirus, managing the care of infected patients, ensuring the flow of accurate public information, and shaping the future of the professional field post-pandemic.
Caring for nurses in this way translates back into exemplary care for patients since it increases nurses' capacity to pour themselves into their absolutely critical work. Healthier nurses lead to healthier communities.
Nurses faced extraordinary challenges as they navigated the pandemic. As the most trusted profession, nurses are still on the frontlines, working tirelessly to protect and care for patients, families, and communities. To share your thanks and support for nurses across the U.S., donate to the American Nurses Foundation Coronavirus Response Fund for Nurses.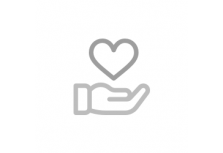 How Donations Work
Click any 'Donate Now' button and then decide your donation amount. You will then be forwarded to your payment processor of choice. Once your donation has been processed it will be sent to your charity of choice.
Need Some Help?