For more than 150 years, Boys & Girls Clubs have provided a safe place for the kids and teens who needs us most. It is our vision that every child and teen who comes through our doors graduates on time with a plan for the future, demonstrating good character and citizenship, and living a healthy lifestyle. We are in communities all across the nation - from urban to rural, public housing to public schools - and we're uniquely positioned on military bases here and abroad, as well as the largest youth development provider for Native youth.
Boys & Girls Clubs are needed more now than ever. The unparalleled challenges facing our kids today can feel insurmountable. An academic achievement gap puts at-risk youth far behind their peers, with summer learning loss as one of their greatest obstacles to reaching high school graduation on time or at all. Nearly 20 percent of adolescents are obese and the national obesity epidemic continues to worsen. One out of five kids live in poverty and lack access to supports that will ensure their safety, health and academic success. All of these circumstances profoundly impact a child's outlook on the future - in fact, about half of America's teens don't believe the American dream is even possible.
But it doesn't have to be this way. There are solutions that work and Boys & Girls Clubs of America is ready to bring those to the millions of youth we serve, while championing opportunities for all of America's kids. We have proof that our approach makes a difference. 97% of Club teens expect to graduate from high school on time. 84% believe they can make a difference in their communities. And 84% of Club teens abstain from alcohol compared to 58% of their peers nationally. That's why we are embarking on Great Futures 2025, a bold new plan to scale our transformative impact across every community, reaching the millions of young people who have nowhere to go after school and harnessing the power of the public and private sectors to advocate for the access and resources kids need to achieve great futures. Boys & Girls Clubs of America will fuel the resources necessary to reach two unprecedented goals that will transform generations:
Goal 1: By 2025, to reach the kids who need us most, we will double the number of youth we serve annually from 4M to 8M.
Goal 2: We will deliver high-quality Club experiences in life-readiness, workforce development and STEM in 100% of our Clubs.
You can help make these goals a reality and help transform our youth with the skills they need to build a better future. Support Boys & Girls Clubs of America with your contribution and encourage others to support this important mission.
Boys & Girls Clubs of America is committed to championing opportunities for all youth. Your contribution will change lives for kids and teens across the Country. We hope you will join us in standing with America's young people through your gift today.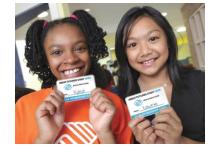 How Donations Work
Click any 'Donate Now' button and then decide your donation amount. You will then be forwarded to your payment processor of choice. Once your donation has been processed it will be sent to your charity of choice.
Need Some Help?