Giving Opportunity
Support LGBTQ rights and advocacy with PFLAG
Advancing equality and strengthening families
About this Giving Opportunity
$70.00
Donated of $13,000.00
PFLAG is the first and largest organization for lesbian, gay, bisexual, transgender, and queer (LGBTQ+) people, their parents and families, and allies. With over 400 chapters and 200,000 members and supporters crossing multiple generations of families in major urban centers, small cities, and rural areas across America, PFLAG is committed to creating a world where diversity is celebrated and all people are respected, valued, and affirmed.
To learn more, visit pflag.org, like them on Facebook (/pflag), or follow them on Twitter (@pflag) or Instagram.
Microsoft News is partnering with PFLAG as part of our Poverty Next Door project. This series takes a closer look at who is poor in America to reveal that traditional stereotypes and assumptions about who lives in poverty don't apply in today's world of unaffordable housing, crippling college debt, climate change and other forms of systematic marginalization. We are proud to support the work of PFLAG and its advocacy and support of LGBTQ individuals who struggle to make ends meet.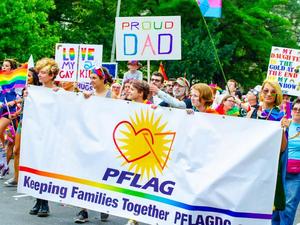 Causes in this Giving Opportunity

Washington, District Of Columbia, 20006, United States
How Donations Work
Click any 'Donate Now' button and then decide your donation amount. You will then be forwarded to your payment processor of choice. Once your donation has been processed it will be sent to your charity of choice.
Need Some Help?