Giving Opportunity
Help end student hunger with Swipe Out Hunger
Addressing food insecurity on college campuses
About this Giving Opportunity
$400.00
Donated of $13,000.00
Swipe Out Hunger is a national nonprofit committed to ending college student hunger, partnering with colleges and universities to provide financially and logistically efficient anti-hunger programs. The organization's flagship program, "The Swipe Drive," allows students to donate their extra meal plan swipes to their peers who face food insecurity on campus. Recognized for its entrepreneurial nature, Swipe Out Hunger has been named an Obama White House Champion For Change and its founder, Rachel Sumekh, has landed a spot on the Forbes' 30 Under 30 list. From its beginnings as a grassroots movement at UCLA in 2010, Swipe Out Hunger has since served 1.7 million nourishing meals with more than 90 universities across 32 states. For more information, visit swipehunger.org.
Microsoft News is partnering with Swipe Out Hunger as part of our Poverty Next Door project. This series takes a closer look at who is poor in America to reveal that traditional stereotypes and assumptions about who lives in poverty no longer apply in today's world of unaffordable housing, crippling college debt, climate change and other forms of systematic marginalization. We are proud to support the work of Swipe Out Hunger to address the issue of food insecurity on college campuses. Please join us.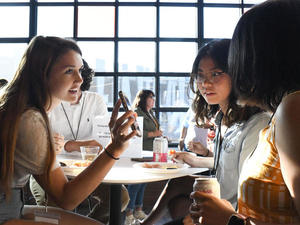 How Donations Work
Click any 'Donate Now' button and then decide your donation amount. You will then be forwarded to your payment processor of choice. Once your donation has been processed it will be sent to your charity of choice.
Need Some Help?