Giving Opportunity
Support the rights of people with disabilities with AAPD
Increase the political and economic power of people with disabilities
About this Giving Opportunity
$2,730.00
Donated of $13,000.00
The American Association of People with Disabilities (AAPD) represents over 57 million Americans with disabilities and serves as the umbrella organization in the disability rights space. AAPD works for equal opportunity, economic power, political participation, and the right of people with disabilities to live free and independently.
This November, Microsoft News is supporting the work of AAPD as part of our Poverty Next Door project. This series takes a closer look at who is poor in America to reveal that traditional stereotypes and assumptions about who lives in poverty no longer apply in today's world of unaffordable housing, crippling college debt, climate change and other forms of systematic marginalization. We are proud to support AAPD and its mission to advocate for and empower people with disabilities. Please join us.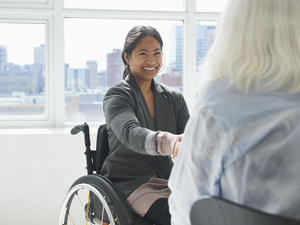 Causes in this Giving Opportunity
Washington, District Of Columbia, 20006-4201, United States
How Donations Work
Click any 'Donate Now' button and then decide your donation amount. You will then be forwarded to your payment processor of choice. Once your donation has been processed it will be sent to your charity of choice.
Need Some Help?