Giving Opportunity
Help bring Medi Teddy to children in the hospital
Founder Ella Casano is MSN's Local Hero of the Month
About this Giving Opportunity
$3,990.00
Donated of $5,000.00
MSN is proud to honor Medi Teddy as our Local Hero of the Month for October. Created by 13-year-old Ella Casano, who wanted to make her own regular IV treatments more comfortable, Medi Teddy is a stuffed animal sleeve with a see-through mesh back designed to cover and conceal an I.V. bag from the pediatric patient receiving an infusion. This helps to provide comfort to the child by minimizing the look of the intimidating medical equipment around them.
Medi Teddy Inc. uses funds for the purpose of manufacturing, donating, distributing and mailing Medi Teddys to children around the world who are receiving I.V. fluids, medication, blood products, or tube feedings. This funding comes from direct donations, grants, and through funding from our sister, social enterprise corporation, I.V. Comfort Solutions, LLC.
Please join us in supporting Medi Teddy and their efforts to provide comfort to these children.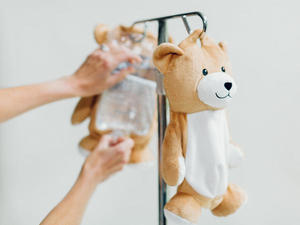 How Donations Work
Click any 'Donate Now' button and then decide your donation amount. You will then be forwarded to your payment processor of choice. Once your donation has been processed it will be sent to your charity of choice.
Need Some Help?