Giving Opportunity
Bushfire Emergency
With bushfires devastating communities across Australia your help is needed. Please donate now.

About this Giving Opportunity
Tuesday, November 12
Australia is in the grip of a bushfire crisis.
On Sunday Queensland Premier Annastacia Palaszczuk declared a State of Emergency, citing unprecedented 'catastrophic fire conditions'. On Monday, NSW Premier Gladys Berejiklian followed suit. Bushfires also threaten communities in ACT, Western Australia and South Australia.
Long periods of drought have made vast swathes of the bush tinder dry. As you read this hundreds of thousands of hectares are ablaze, with over 50 fires burning in NSW alone. Several are classified at Emergency level, directly threatening lives, property, livestock and devastating Koala habitats. Hundreds of schools are closed, and others are being evacuated. Residents near Taree have been told it is too late to leave. The fires along the Mid North Coast are so severe the smoke has reached New Zealand.
Meanwhile, hundreds of Rural Fire Service members are fighting in the front line, setting aside fatigue and risking their lives as they attempt to keep fires within containment lines, battling hazardous shifting winds and the menace of airborne embers.
Let's do what we can to support the communities they are so courageously striving to protect by donating today. Your generosity will have real impact.
By donating to this giving opportunity, you will help:
Australian Red Cross
St Vincent De Paul Society NSW
The Salvation Army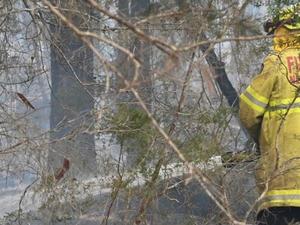 Causes in this Giving Opportunity

Lewisham, New South Wales, 2049, Australia

Redfern, New South Wales, 2016, Australia

Melbourne, Victoria, 3001, Australia
How Donations Work
Click any 'Donate Now' button and then decide your donation amount. You will then be forwarded to your payment processor of choice. Once your donation has been processed it will be sent to your charity of choice.
Need Some Help?