Giving Opportunity
Ship a care package to a military service member
Operation Gratitude boosts the morale of those who serve during the holidays
About this Giving Opportunity
Operation Gratitude's mission is to lift the spirits and meet the evolving needs of our First Responder, Active Duty, Veteran, and Wounded Hero communities. They also seek to provide volunteer opportunities for all Americans to express their appreciation for these deserving Heroes through hands-on volunteerism, such as collection drives, letter writing campaigns, handcrafted "Made with Love" projects, and care package assembly events.
Every year, Operation Gratitude sends 250,000+ individually-addressed care packages to Soldiers, Sailors, Airmen and Marines deployed overseas and to their children left behind. They also send packages to New Recruits, Veterans, First Responders, Wounded Heroes and their caregivers. Each package contains food items, hygiene products, entertainment, handmade items, and handwritten letters of support.
Operation Gratitude is a 501(c)(3) non-profit, volunteer-based corporation, funded entirely by private donations. Since its inception in March, 2003, Operation Gratitude volunteers have assembled and shipped more than one million care packages.
A donation of $15 pays for the cost of shipping one care package. Thank you for joining MSN this holiday season in supporting the work of Operation Gratitude.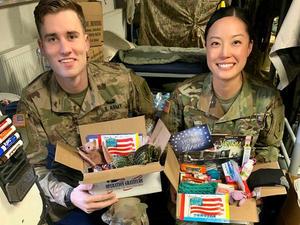 Causes in this Giving Opportunity
Encino, California, 91426-0257, United States
How Donations Work
Click any 'Donate Now' button and then decide your donation amount. You will then be forwarded to your payment processor of choice. Once your donation has been processed it will be sent to your charity of choice.
Need Some Help?