Giving Opportunity
Support justice and equity for Black Americans today
About this Giving Opportunity
Ending racism and its violent outcomes needs concrete action to improve the lives of people of color. When you make a donation here, your generosity will go toward advancing basic human rights for people of color in the United States, fighting for the protections guaranteed in The Constitution, and working toward a just society. There are many organizations devoted to these fundamental principles. For this opportunity, your contribution will help:
Black Lives Matter Global Network: Eradicate white supremacy and build local power to intervene in violence inflicted on Black communities by the state and vigilantes.
Equal Justice Initiative: Ending mass incarceration and excessive punishment in the United States, to challenging racial and economic injustice, and to protecting basic human rights for the most vulnerable people in American society.
Innocence Project: Exonerating wrongfully convicted people through DNA testing and reforming the criminal justice system to prevent future injustice.
Minnesota Freedom Fund: Pays criminal bail and immigration bond for those who cannot afford to while seeking an end to end discriminatory, coercive, and oppressive jailing. Donations may be used to expand legal support for those arrested or incarcerated protesting the murder of George Floyd, as well as advance efforts to end the unjust practice of cash bail and pretrial punishment in Minnesota.
The Leadership Conference Education Fund: Builds public will for laws and policies that promote and protect the civil and human rights of every person in the United States.
NAACP Legal Defense and Educational Fund: Fighting for racial justice and seeking equality for all Americans.
Click the red 'Donate Now' button above and your donation will be distributed evenly between these nonprofits. You may also choose your preferred organization below. Thank you for taking action toward racial justice and equality.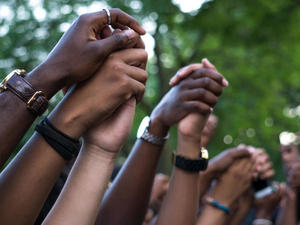 Causes in this Giving Opportunity
How Donations Work
Click any 'Donate Now' button and then decide your donation amount. You will then be forwarded to your payment processor of choice. Once your donation has been processed it will be sent to your charity of choice.
Need Some Help?