Oportunidad benéfica
Help protect vulnerable animals & ensure safe homes
Supporing animal resue, placement, and protection
Sobre esta Oportunidad benéfica
ASPCA helps vulnerable animals and keeps pets in safe and loving homes. The organization works with communities under a common cause - saving lives and elevating society and its laws to ensure that cruelty victims and other at-risk animals receive the protection and care they deserve.
Please consider one of the following donations:
$25: Feeds a rescued dog or cat for over a month
$35: Your gift can help give enrichment toys to animals in ASPCA's care
$50: Your gift can provide a medical exam, microchip, collar and ID tag for a rescued animal
$150: Your gift can provide medical exams for a litter of 5 puppies or kittens
Thank you for joining MSN this holiday season in our support of ASCPA and the animals they care for. Learn more about MSN + Benevity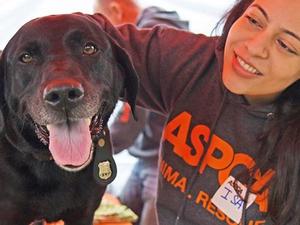 Cómo funcionan las donaciones
Haga clic en cualquier botón de "Donar ahora" y, luego, decida su importe de donación. Será dirigido al procesador de pagos que elija. Una vez que su donación se haya procesado, se enviará a la entidad benéfica de su elección.
¿Necesita ayuda?