Giving Opportunity
Protect the Amazon
Wildfires are destroying the Amazon rainforest at an alarming rate
About this Giving Opportunity
For weeks, massive wildfires have been burning out of control across the Amazon rainforest of Brazil, destroying more than four million acres. So far in 2019 more than 74,000 wildfires have ravaged this crucial ecosystem—the highest number ever recorded in a year.
The Amazon rainforest is the world's largest carbon sink and plays a critical role in regulating the global climate. The wildfires threatening the Amazon are happening as deforestation in Brazil for agriculture, industry and resource extraction accelerates at an unprecedented rate. Deforestation in the Brazilian Amazon rose more than 88% in June 2019 compared with the same month in 2018.
Let's do what we can to help protect the Amazon. Dedicated conservation NGOs have been working hard for years to defend the rainforest through conservation efforts and support for indigenous peoples. Now their work is more important than ever. Let's help them protect the Amazon rainforest from development through conservation and advocacy, and provide local communities with the resources, training and technology they need to fight the wildfires threatening their forest.
By donating to this Giving Opportunity, you will help:
Amazon Watch challenge destructive development in the rainforest and support the rights of indigenous peoples
Rainforest Trust and Rainforest Alliance conserve millions of acres of rainforest in Amazonia
Amazon Conservation Association provide local communities and governments with fire prevention training and resources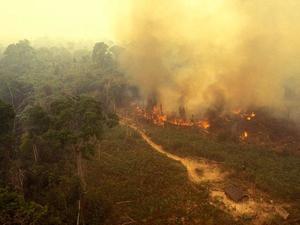 Causes in this Giving Opportunity
How Donations Work
Click any 'Donate Now' button and then decide your donation amount. You will then be forwarded to your payment processor of choice. Once your donation has been processed it will be sent to your charity of choice.
Need Some Help?