Giving Opportunity
Help provide holiday meals for hungry families
Donate to Feeding America this season
About this Giving Opportunity
Each year, the Feeding America network provides food to more than 46 million people, including 12 million children and nearly 7 million seniors. Our nationwide network of 200 member food banks and 60,000 meal programs, including food pantries, soup kitchens, and programs for seniors and children, serves 4.3 billion meals annually to people in need, including 1.5 billion pounds of fruits and vegetables. Feeding America rescues 3.5 billion pounds of food that may have otherwise gone to waste.The Feeding America network of food banks is leading the fight against hunger in communities across the country.
Every dollar you give helps provide at least 10 meals to families in need, and it only takes a few minutes to help hungry families have a full table this holiday. Thank you for joining MSN in our ongoing support of Feeding America.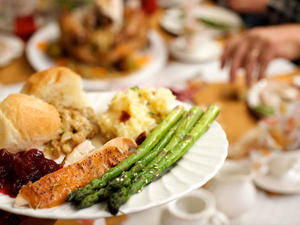 How Donations Work
Click any 'Donate Now' button and then decide your donation amount. You will then be forwarded to your payment processor of choice. Once your donation has been processed it will be sent to your charity of choice.
Need Some Help?