According to the World Health Organization (WHO), the Novel Coronavirus (COVID-19) is officially a pandemic. The COVID-19 outbreak that originated in China has now spread to at least 110 countries and territories. UNICEF is working with partners to help halt the virus and protect children now.
Please consider supporting UNICEF's efforts, which include: the urgent prevention of new infections through public health education and outreach; the scale-up of alternative communications channels to help families confined at home to maintain their health and mental well-being; the support of health systems to help boost supplies of key equipment; and the tackling of misinformation that could have harmful effects on children.
Additionally, as many countries can no longer locally source Personal Protection Equipment (PPE) and other health supplies, UNICEF's support is critical to fill these supply gaps. UNICEF's Supply Division can also secure procurement of other response needs, including critical equipment to supply oxygen to the most severely ill patients.
With your generous support, UNICEF will work to ensure children and families receive the supplies and information needed to reduce the impact of this crisis. On behalf of children across the globe, thank you!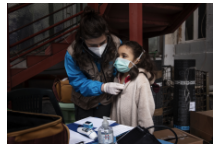 Fonctionnement des dons
Cliquez sur n'importe quel bouton « Donner maintenant », puis décidez du montant de votre don. Vous serez alors dirigé vers le traitement de paiement de votre choix. Une fois votre don traité, il sera envoyé à l'œuvre de bienfaisance de votre choix.
Besoin d'aide?