According to the World Health Organization, the novel coronavirus is officially a public health emergency of international concern. UNICEF is working with partners to help halt the virus, scaling up its response to protect vulnerable children across the East Asia and Pacific region.
Please consider supporting UNICEF's efforts, which will include: widespread prevention messaging across social media, radio, and other channels to help children and families stay safe from the virus; reinforcement of hygienic practices in schools and public spaces; continued access to pre- and post-natal care and other essential health services; and coordination with governments to ensure that education is not interrupted.
With your generous support, UNICEF will work across the region to ensure children and families receive the supplies and information needed to reduce the impact of this epidemic.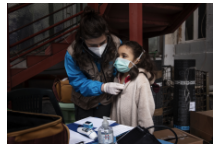 How Donations Work
Click any 'Donate Now' button and then decide your donation amount. You will then be forwarded to your payment processor of choice. Once your donation has been processed it will be sent to your charity of choice.
Need Some Help?