Opportunità di donazione
Donate today to The Trevor Project
Actions speak louder than words

Informazioni su Opportunità di donazione
Take action today by making a donation to The Trevor Project. They are the world's largest suicide prevention and crisis intervention organization for lesbian, gay, bisexual, transgender, queer, and questioning young people under 25. Join us in making a difference for youth facing a crisis.
What actions will you take?
50 years after Stonewall, actions speak louder than words. Discover how we are taking actions for LGBTQI+ inclusion and share yours.
To celebrate WorldPride, Microsoft has partnered with The Ally Coalition to create a community-powered sight and sound experience to encourage the LGBTQI+ community and allies to share what Pride means to them. Scored by St. Vincent and powered by Microsoft AI. Learn more.
Thank you for your support. About MSN + Benevity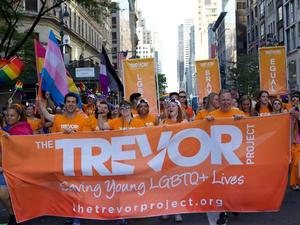 Cause in Opportunità di donazione

West Hollywood, California, 90069-7002, United States
Come funzionano le donazioni
Fai clic su un pulsante "Dona ora" e poi decidi l'importo della donazione. Passerai quindi al sistema di elaborazione dei pagamenti di tua scelta. Dopo l'elaborazione, la tua donazione sarà inviata all'organizzazione benefica di tua scelta.
Serve aiuto?