Giving Opportunity
Donate today to The Trevor Project
Actions speak louder than words

About this Giving Opportunity
Take action today by making a donation to The Trevor Project. They are the world's largest suicide prevention and crisis intervention organization for lesbian, gay, bisexual, transgender, queer, and questioning young people under 25. Join us in making a difference for youth facing a crisis.
What actions will you take?
50 years after Stonewall, actions speak louder than words. Discover how we are taking actions for LGBTQI+ inclusion and share yours.
To celebrate WorldPride, Microsoft has partnered with The Ally Coalition to create a community-powered sight and sound experience to encourage the LGBTQI+ community and allies to share what Pride means to them. Scored by St. Vincent and powered by Microsoft AI. Learn more.
Thank you for your support. About MSN + Benevity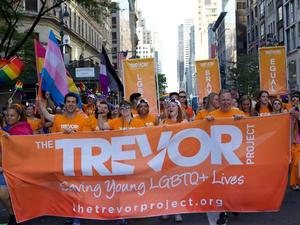 Causes in this Giving Opportunity

West Hollywood, California, 90069-7002, United States
How Donations Work
Click any 'Donate Now' button and then decide your donation amount. You will then be forwarded to your payment processor of choice. Once your donation has been processed it will be sent to your charity of choice.
Need Some Help?