捐獻機會
Donate today to The Trevor Project
Actions speak louder than words

有關該捐獻機會
Take action today by making a donation to The Trevor Project. They are the world's largest suicide prevention and crisis intervention organization for lesbian, gay, bisexual, transgender, queer, and questioning young people under 25. Join us in making a difference for youth facing a crisis.
What actions will you take?
50 years after Stonewall, actions speak louder than words. Discover how we are taking actions for LGBTQI+ inclusion and share yours.
To celebrate WorldPride, Microsoft has partnered with The Ally Coalition to create a community-powered sight and sound experience to encourage the LGBTQI+ community and allies to share what Pride means to them. Scored by St. Vincent and powered by Microsoft AI. Learn more.
Thank you for your support. About MSN + Benevity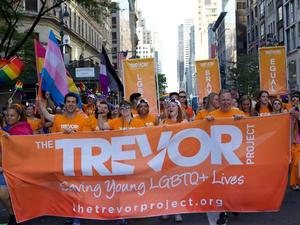 捐款運作
點擊任何「立即捐款」按鈕,然後決定您的捐款金額。您會被導向至您選擇的付款處理器。您的捐款一經處理,即會送交您選擇的慈善機構。
需要協助嗎?